Spring is one of my favorite seasons. From the warmer weather and more sunlight to the pretty flowers that add color to the day, this is the perfect time for clothes that inspire a cheery, upbeat mood. Even better, many of the looks you wear in the spring transition well into the summertime, so here are five spring to summer trends you should try.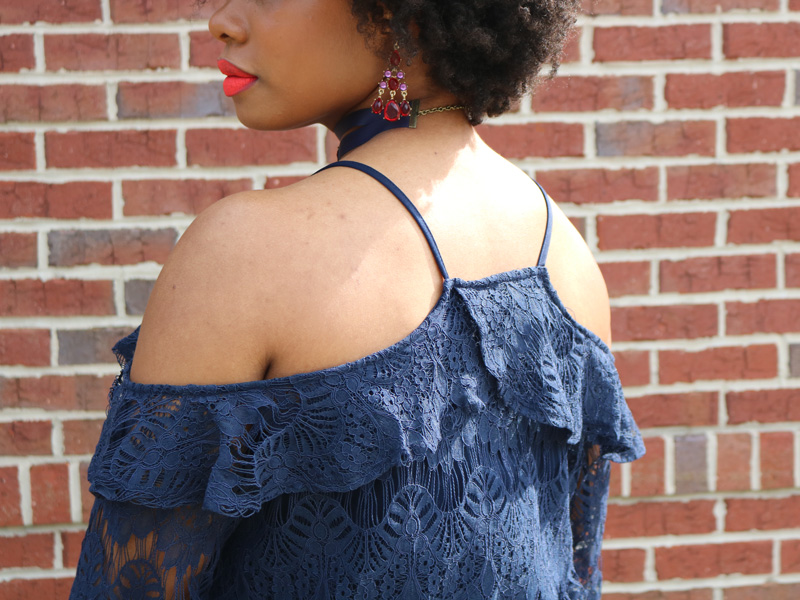 1. Cold Shoulder/Off-the-Shoulder Trend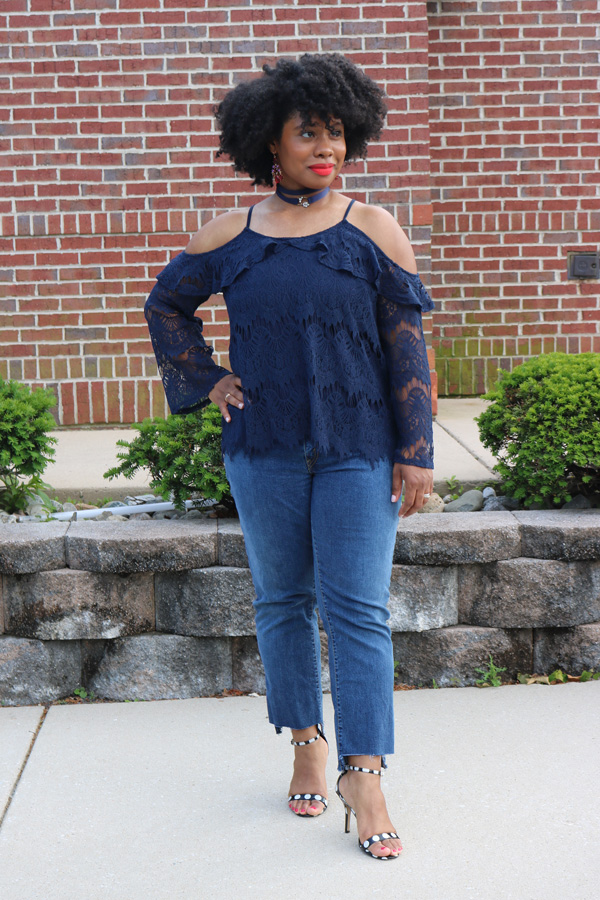 Outfit Details: Love Fire Top (similar, similar), Thrifted Levi's Straight Leg Jeans, Betsey Johnson Heeled Sandals (similar, similar), Francesca's Chandelier Earrings (similar, similar), Sugarfix by Baublebar Choker Necklace (similar, similar)
Showing off a little skin can be tricky, especially if you're also trying to be modest. In the past, I'd always shy away from wearing anything sleeveless or with a halter neckline due to fear overexposing myself. But, with the right top or dress, it's possible to pull off this trend. My trick is to balance out the amount of exposed skin by adding other pieces for coverage.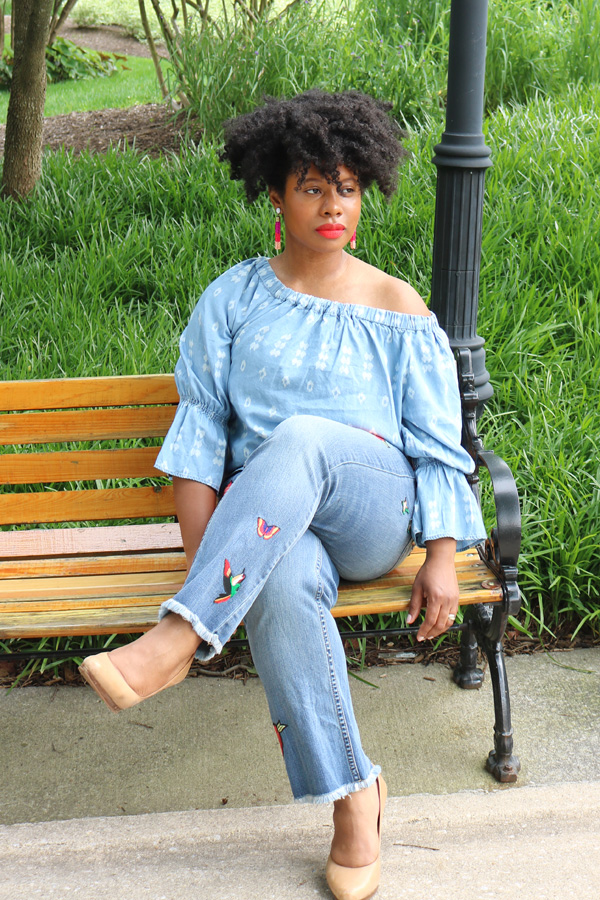 Outfit Details: Sugarfix by Baublebar Tassel Earrings (similar), Kensie Jeans Off-the-Shoulder Blouse (similar, similar), Who What Wear Embroidered Jeans (plus size, too!), Nine West Heels (similar)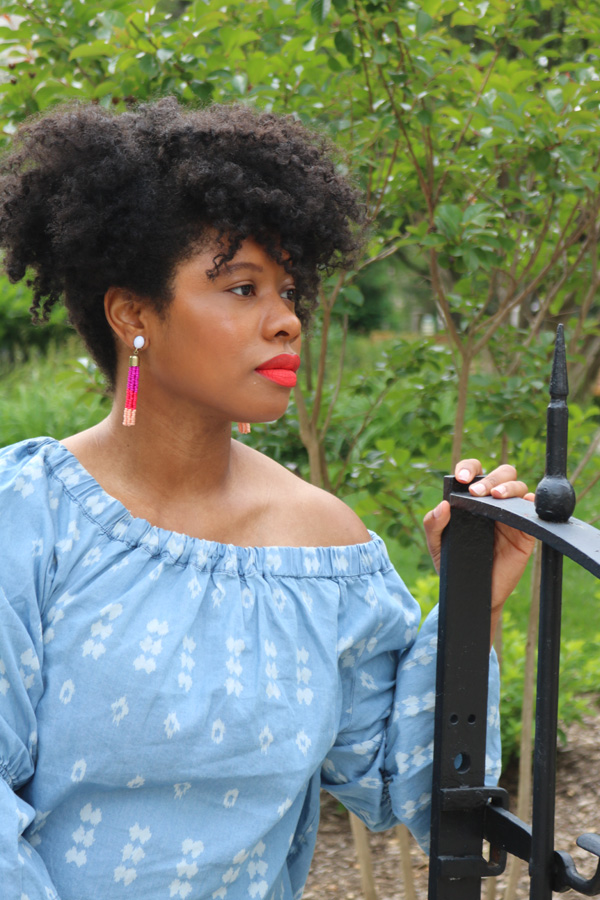 As shown in the photos above, I created balance by only exposing one area, in this case, the shoulders, and left the rest of my body covered up. In addition, I wore breathable pieces made of cotton and avoided anything too clingy or synthetic that could trap in body heat, making these the perfect outfits for transitioning from spring to summer.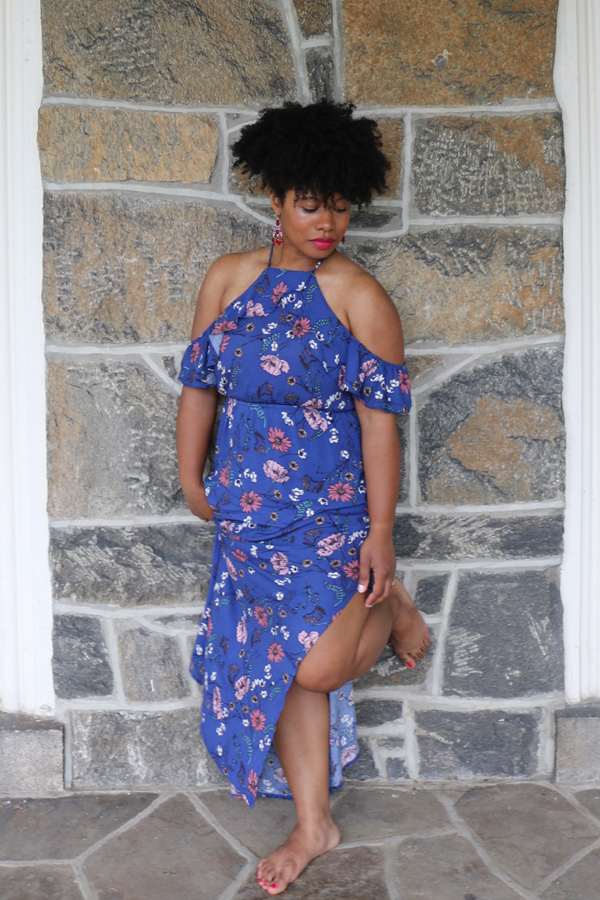 Outfit Details: Francesca's Earrings, One Clothing Maxi Dress (similar, similar, similar)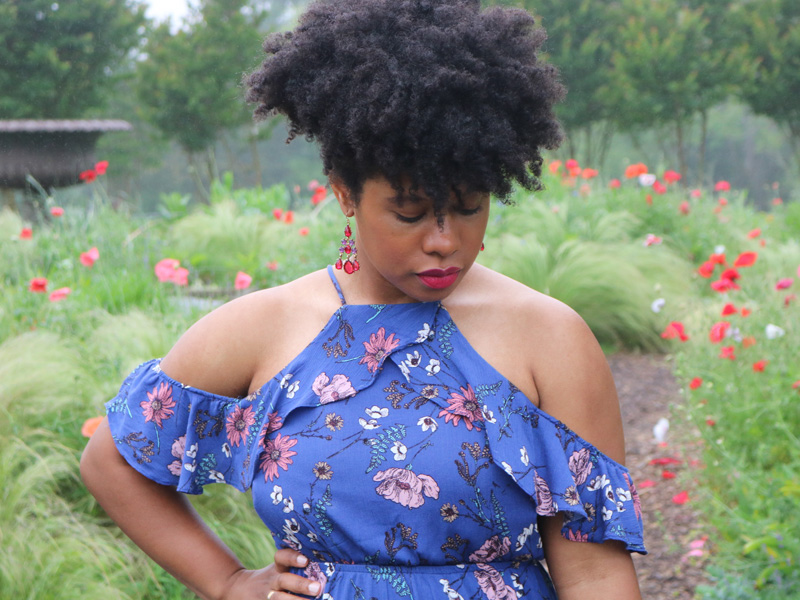 For us girls who enjoy a good maxi dress, I spotted this one at TJ Maxx (in the juniors section!) and fell in love instantly. Continuing with the off-the-shoulder trend, this dress has a beautiful floral print and the perfect amount of flowiness that appeals to the hippy in me. I could honestly wear this dress in every color and still not be bored with it.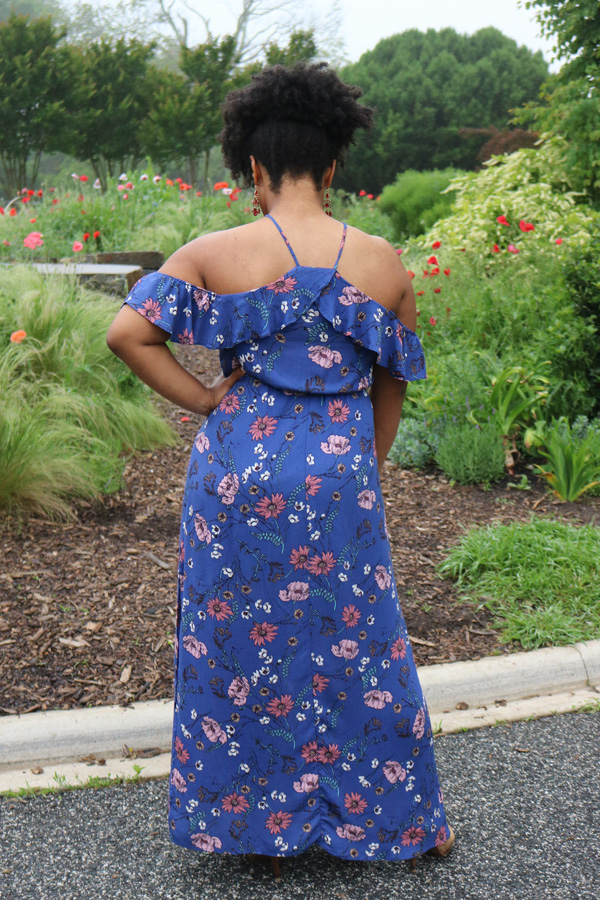 Here, the length of the dress perfectly balances out the amount of skin that's exposed, and with the correct undergarments, you can wear this dress and avoid showing off a bra strap or two.
2. Heeled Sandals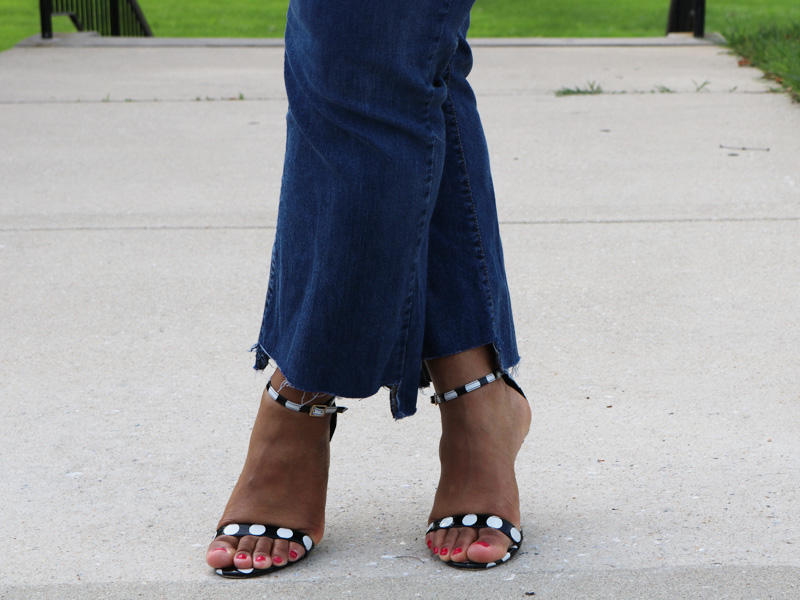 When I'm not wearing my trusty Converses, I like to dress up my spring and summer outfits with heeled sandals. These cute polka dot ones by Betsey Johnson have gotten me a lot of compliments, and they're very comfortable to wear all day and night. And they're a great excuse to show off your pedicure.
3. Embroidered Jeans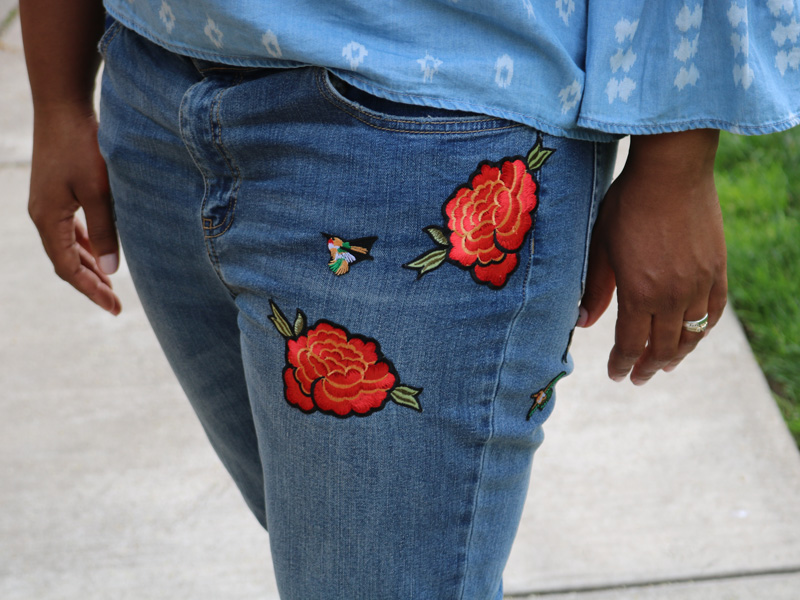 These jeans have become more popular over the past few months, and when I saw these by Who What Wear at Target, I couldn't help but get them. This trend is also easy to recreate on your own with a great fitted pair of jeans and an assortment of iron-patches – the options are endless. In fact, I look forward to creating my own pairs of embroidered jeans and even cutoff shorts this summer.
4. Distressed Denim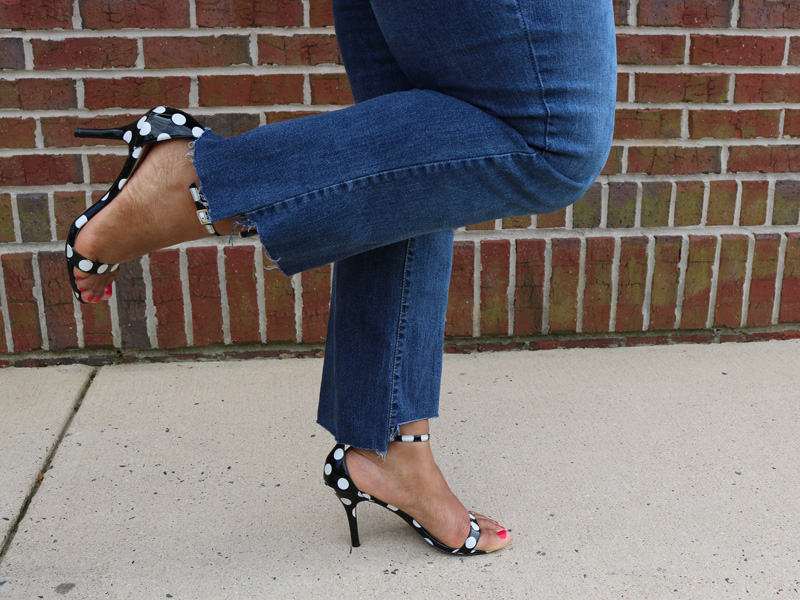 It seems like no matter what season it is, distressed denim is always trending. Believe it or not, I bought this pair for only $3 at a local thrift store and distressed them myself in less than five minutes. I created a step hem, following a method used by J. Crew. For instructions on this DIY project, check out this video from J. Crew's YouTube channel. When it comes to distressing denim, I figure it would be more cost-effective to create this look on my own for cheaper than the usual retail price.
5. Bright Accents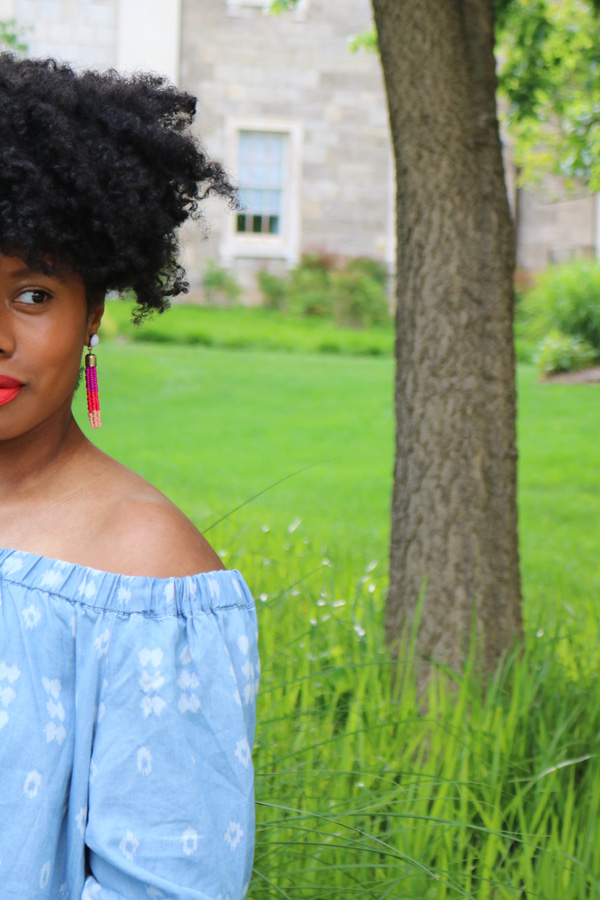 Even though I like to wear a bright lip or similar accents all year, there's something special about wearing colorful accessories when it's warm and sunny outside. The colors seem to pop more and look more vibrant, in my opinion.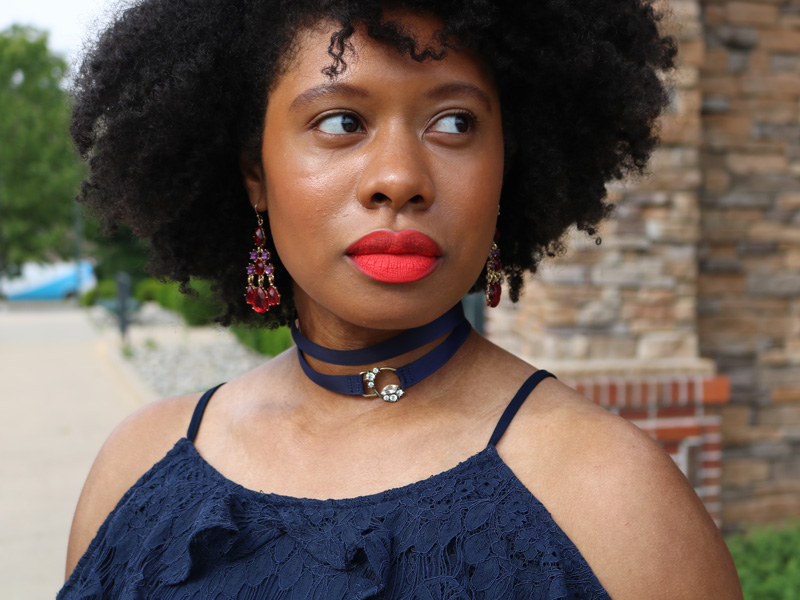 In the photo above, I layered on several products to create a bright red lip with a touch of orange. Starting with a red base of MAC's Ruby Woo lip liner, I mixed Milani lipstick in #66 (Matte Passion) with NYX Full Throttle Lipstick in Jolt. Since I'm wearing mostly navy pieces, I chose to complement the dark blue with orange to brighten up the overall look.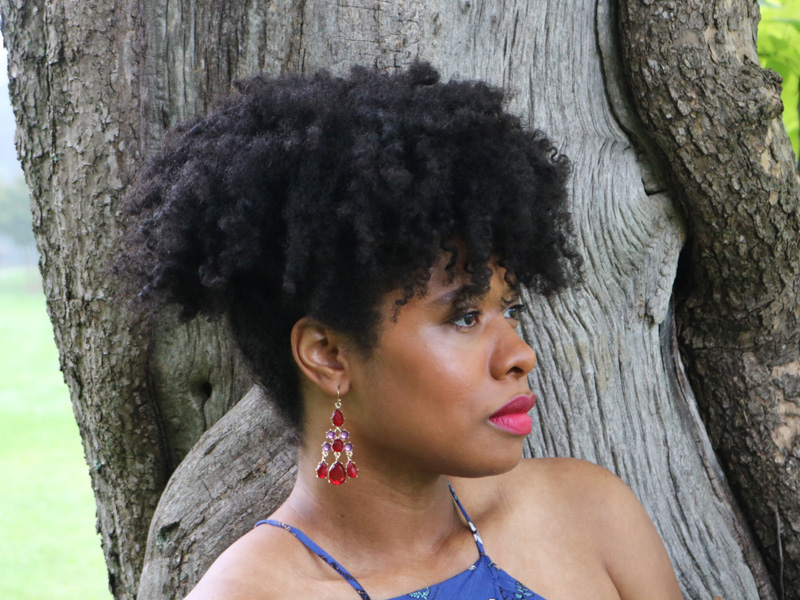 As seen above, I created a rosy pink lip to accentuate the different shades of pink in my maxi dress. Using Ruby Woo lip liner again as a base, I layered on Revlon Super LustrousTM Lipstick in #657 Fuschia Fusion. The color is also picked up in chandelier earrings, making this an overall cohesive look.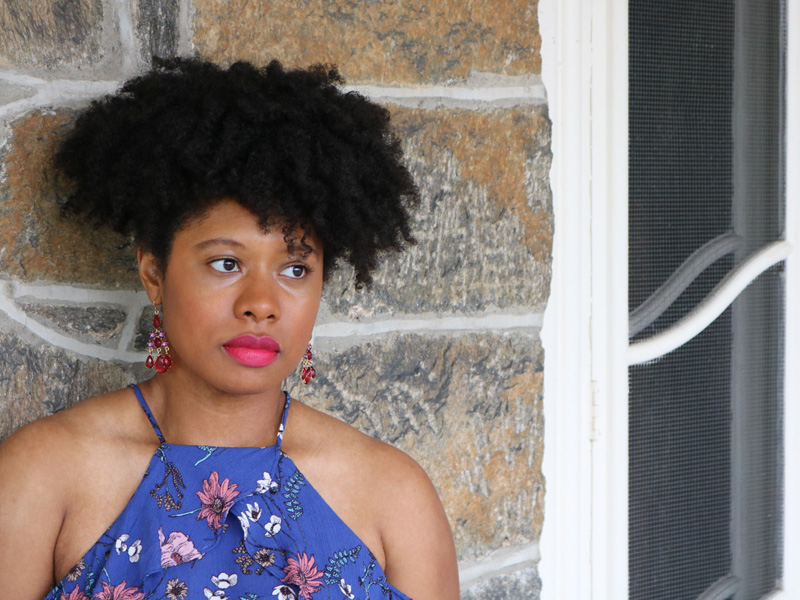 So what do you think of my trend list? Do you agree that they're worth trying as we transition from spring to summer? Share your thoughts below.