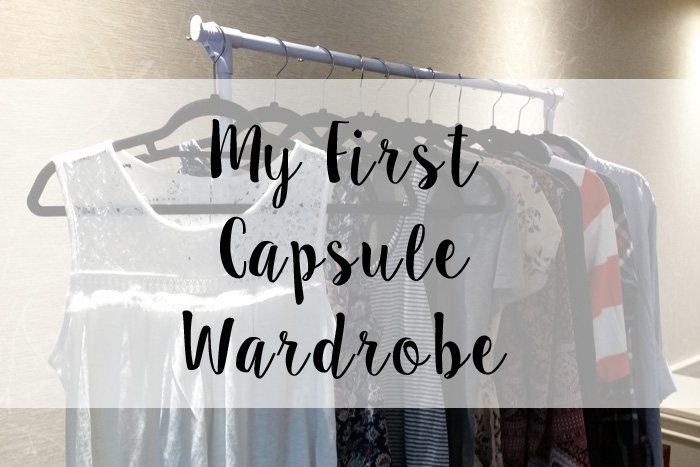 Have you ever spent hours trying to find what to wear? Capsule wardrobes have solved that problem for me. Although I didn't actually learn the term until recently, I was already familiar with the concept of building a seasonal wardrobe using a handful of staple pieces. As a high-schooler, I'd watched hours of "What Not to Wear" and be mesmerized by how Clinton Kelly and Stacy London could transform someone's look with just a few pieces, creating multiple outfits. Over the past year, capsule wardrobes have become more trendy and mainstream, and with the help of several fashion bloggers and YouTubers, I've learned enough about capsule wardrobes to finally create my own.
What is a Capsule Wardrobe?
By definition, a capsule wardrobe is a collection of clothing and accessories that serves as the foundation of your wardrobe. Susie Faux, a London-based boutique owner, author and image consultant, developed the concept in the 1980s to help women become more self-confident and take pride in their appearance. As more people have caught on, the capsule wardrobe has been interpreted in many ways, but at its core, Faux emphasizes that the wardrobe should be composed of a small number of neutral-colored items that are high-quality and the very best you can afford.
The Benefits of Wearing a Capsule Wardrobe
With fashionable clothes being produced at such a high rate, you may wonder why I've chosen to pare things down. The main reason I wanted to create a capsule wardrobe was because I wanted to discover, refine and embrace my personal style. Growing up, I was a pretty frumpy kid and wore hand-me-downs or whatever my parents chose to buy for me. Now as a young adult, I wanted to put more effort into my appearance so I could be proud of how I looked.
Second, I wanted to be a conscious consumer and purchase items that were ethically produced. Watching a documentary called "The True Cost" really opened my eyes to see how much fast fashion harms the environment and the people who manufacture the items often in sweatshops for low wages under harsh conditions. Lastly, I wanted to be a savvy consumer and stretch my dollar even farther by only buying high-quality items I loved and would wear again and again. I ended up spending more up front, but since the items I've chosen are of better quality, they'll last and be worth the money I spent on them.
My Tips for Creating Your Own Capsule Wardrobe
Determine your goals and intentions for creating a capsule wardrobe. Do you want to be a minimalist? Do you want to be more ethical? Do you want to develop a fashion sense or refine your image? Knowing why you're creating a capsule wardrobe to begin with will influence any further decisions you make.
Clean out your current wardrobe. Review every piece and only keep the items you love to wear and the items that fit well on you. (P.S. Consider donating your gently used items or passing them on to family and friends.)
Try setting a limit on the number of items you wear, and keep your look fresh by rotating pieces as the seasons change.
Start with the basics—choose staple pieces that are timeless and figure-friendly. I love classic silhouettes (i.e. a-line skirts and dresses, sheath dresses, wrap dresses, etc.).
Choose your budget and stick with it. Starting out, you may end up spending more if you're building your wardrobe from scratch.
Determine your color scheme. I know Susie Faux favors neutrals, but I love a pop of color to make fashion fun. Consider going by the seasons—pastels in the spring, brights during the summer, warm tones in the fall, and rich, darker hues in the winter.
Pick one or two stores for buying staple pieces. This keeps your shopping trips simple, which means you're more likely to use your wardrobe.
Take care of your wardrobe and make sure to launder and store things properly while in use or put away.
Be conscious of the materials you wear, the locations where the clothes were made and the people who made them. Consider the people's working and living conditions and try to purchase items that were manufactured for fair wages under good working conditions. (This one is fairly new for me, but I'm trying to make better fashion choices that make a positive impact on people and the planet.)
For career women, consider creating a capsule wardrobe for work like I did, if possible. Instead of dressing for the job you have, dress for the career you aspire to have. Find your inner mogul and let her shine through!
Experiment and have fun! Try new things and include a few trendy items. My rule of thumb here is to not spend too much on those things.
My First Capsule Wardrobe - Spring/Summer 2016
My wardrobe includes 11 shirts, 8 blouses, 2 cardigans, 4 pairs of trousers, 4 skirts, 10 dresses, 2 jackets, 1 vest, 4 pairs of shorts, 1 pair of jeans, 1 pair of casual pants, and 9 pairs of shoes. Altogether, that's 57 items (phew!)
Resources for Becoming a Conscious Consumer and Creating Capsule Wardrobes
Here is a listing of my go-to sources for learning about capsule wardrobes and keeping them fun and fashionable.
What do you think of capsule wardrobes? Would you ever create one? Share your thoughts, questions and other feedback below.